The Jewish Community of La
upheim
and its
Annihilation
Book Page 181

EINSTEIN, Max,

Hop trader, 21/1 Kapellenstrasse
Translated by: Markus Ganser
BRIGITTE SCHMIDT
Max Einstein, born May 15,1858 in Laupheim, died June 17, 1933 in Laupheim. [Father: Hirsch Emanuel Einstein, born June 30, 1827, died October 17, 1866. Mother

: Fanny Einstein, née Löwenthal,

born

June

27, 1835, died May 6,

1892.]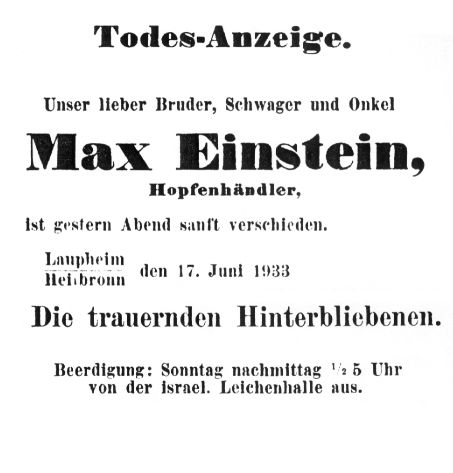 There is only little evidence of Max Einstein, the second son of Hirsch and Fanny Einstein from Laupheim: he was a hop trader and unmarried, which can also be seen in the obituary that was posted by his bereaved relatives.





A look at the tax reports from 1922 to 1933 reveals that he worked in the hop business into old age. In 1922, he still made considerable tax payments, and he also began trading goods made of jute. However, on September 18, 1923, the business was closed for reasons unknown to us, and there are no additional payments listed for that year. At that time, Max Einstein was already 65
.


In 1924, he resumed work, and as stated in the official documents, in 1925 and 1926 he also worked for the oil and fat wholesaler Jonas Weil.


It seems that throughout his life, he lived in his parents' house in Kapellenstrasse 21. He is buried at the Jewish cemetery, together with his parents, in grave number N 27/10
.