The Jewish Community of La
upheim
and its
Annihilation
Book Pages 398 - 400

OBERNAUER, Heinrich,

56 Kapellenstrasse
T

ranslated by

:

Annika Claas, Rozalina Kurteva and Ramona Rogg
Supervisor: Dr. Robynne, Flynn-Diez,

Ruprecht-Karls-Universität Heidelberg,
Institut für Übersetzen und Dolmetschen Englischabteilung
DR . ANTJE KÖHLERSCHMIDT
<![if !vml]> <![endif]>Heinrich Obernauer, born December 29, 1853 in Laupheim, died October 9, 1936 in Laupheim, married Dorlina, née Lövinger, born December 20, 1861, died November 3, 1929 in Laupheim,

– Julius Obernauer, born June 26, 1884 in Laupheim, died November 14, 1887 in Laupheim,

– Bella Obernauer, born July 5, 1887 in Laupheim, died November 6, 1887 in Laupheim,

– Frida Adler, née Obernauer, born September 25, 1888 in Laupheim, died June 6, 1956 in Ulm-Söflingen,

– Paula Obernauer, born February 8, 1890 in Laupheim married to Julius Adler, born October 17, 1882 in Laupheim, immigration of the Adler family on September 1, 1938 to New York, USA,

– Betty Brumlik, née Obernauer, born January 30, 1893 in Laupheim, murdered in Auschwitz,

– Josef Obernauer, born September 25, 1895 in Laupheim
Our book only includes those families who were still living in Laupheim in 1933. At that time only 80-year-old Heinrich Obernauer, his daughter Paula and her family, who are referenced in this book in the chapter on Julius Adler, lived there. Nevertheless, nine members of the immediate family are mentioned above.
Heinrich Obernauer was born on December 29, 1853, as the tenth of eleven children of Israel Herzel Obernauer (1806–1884) and his first wife Dina, née Hirsch (1819–1855). His young mother died only one month after the birth of her eleventh child on October 2, 1855, at the age of 36. Already on March 17, 1856 his father remarried Juditha, née Mayer. Certainly he wanted to be sure that someone was taking good care of his children from his first marriage since some of them were still very young. His son from his second marriage, Israel Obernauer, who was born on January 17, 1857, is the father of Max, Heinrich, and Wilhelm Obernauer. His sons are introduced in other biographical summaries in this book.
Heinrich Obernauer grew up in Laupheim and lived on Kapellenstraße all his life, first in his parents' home at Kappellenstraße 56, then in his own house at Kappellenstraße 52. Like many other Jewish citizens at the time he worked as a merchant, although it is unknown in what exactly he traded. On September 3, 1883 he married Dorlina Lövinger, who had also been born in Laupheim and had grown up there, too. The couple had six children. They lost their two first-born children in 1887. Bella, who was 4 months old, died on November 6, 1887 and her brother Julius, who was 3 and a half years old, died eight days later. The cause of death is unknown, however, it is assumed that they succumbed to the same illness.
Their four other children Frida, Paula, Betty and Joseph reached adulthood. Paula Obernauer was the first daughter to marry. On May 3, 1912 she married Julius Adler from Laupheim who traded in horses, cattle and meat. They had three children. They successfully immigrated to New York, USA, on September 3, 1938 (see article about Julius Adler).
One year later Frida Obernauer married Isaak Adler from Ulm and moved there with him. According to the civil registry in Laupheim she continued to live there after the war until her death on June 6, 1956. Unfortunately, no further details are known.
Betty Obernauer was the only family member who could be found on a photo of the Tanzkränzchengesellschaft (dance society) of 1911. On May 8, 1921 she married Otto Brumlik from Ulm, and then moved there. The "Gedenkbuch. Opfer der Verfolgung der Juden unter nationalsozialistischer Gewaltherrschaft in Deutschland 1933-1945." ("Memorial Book. Victims of the National Socialist persecution of Jews in Germany 1933-1945.", The Federal archive in Koblenz from 1986), lists Betty Brumlik, née Obernauer, as deported and murdered in the extermination camp Auschwitz. According to the same source her husband Otto Brumlik was deported on November 20, 1942 to Theresienstadt. On January 20, 1943 he was moved to Auschwitz where he was murdered.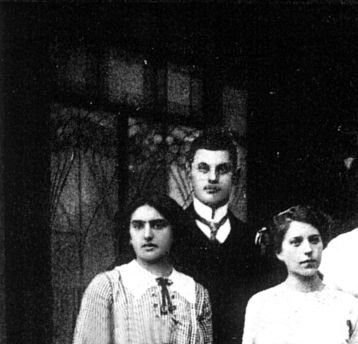 Betty Obernauer, Adolf Scheffold and Josefine
Speth (from left to right) at the Tanzkränzchen in the "Kronprinzen" in 1911
(Photo: Braun, Alt-Laupheimer Bilderbogen, 1988, p. 120)
Joseph Obernauer, the only son, was a tradesman and joined the medical orderly convoy 522 of Württemberg on April 30, 1915. There he served as a driver. Like many other long-term soldiers he took part in numerous battles of World War I. He listed the following battles in the "Verzeichnis von Kriegsteilnehmern der israelitischen Gemeinde Laupheim" ("List of war veterans of the Israelite community, Laupheim"): the Battle of the Somme, the Battle of Arras, Bellecourt, the Monchy Offensive, the Flanders Offensive up to St. Quentin, the Battle of Flanders, the Advance at the Somme, the Battle at the Somme near Albert in summer 1918, the Offensive near Douai, near Arras in October, near Douai again at the end of October and then the retreat until the armistice came into force.
Decorated with the Iron Cross Second Class and the Verdienstkreuz (national decoration awarded for services to the community) he returned to his hometown Laupheim, where he lived in his father's house on 52 Kappellenstraße. In May 1927 the tradesman Josef Obernauer moved to Ulm. After that any traces of him are lost.
On November 4, 1929, Heinrich Obernauer announced the death of his wife Dorline, née Lövinger in the local newspaper "Laupheimer Verkündiger". He outlived his wife by seven years. So he lived to see the first years of national socialist rule and the increasing marginalization of and discrimination against German Jews. Heinrich Obernauer died on October 6, 1936 in Laupheim, at the age of 83 and was laid to rest with his wife in the Jewish cemetery in Laupheim. In 1937 Obernauer's heirs sold his home to the bicycle trader Hans Rommel.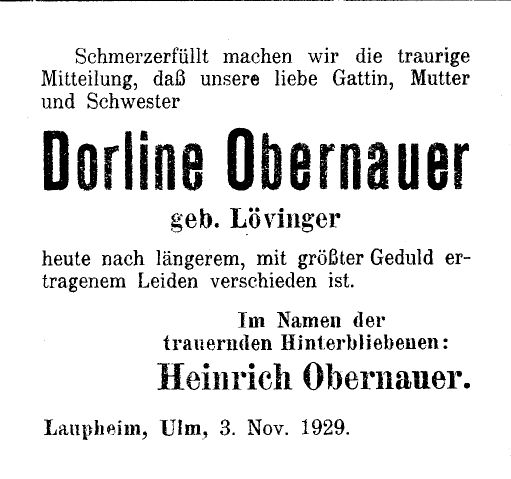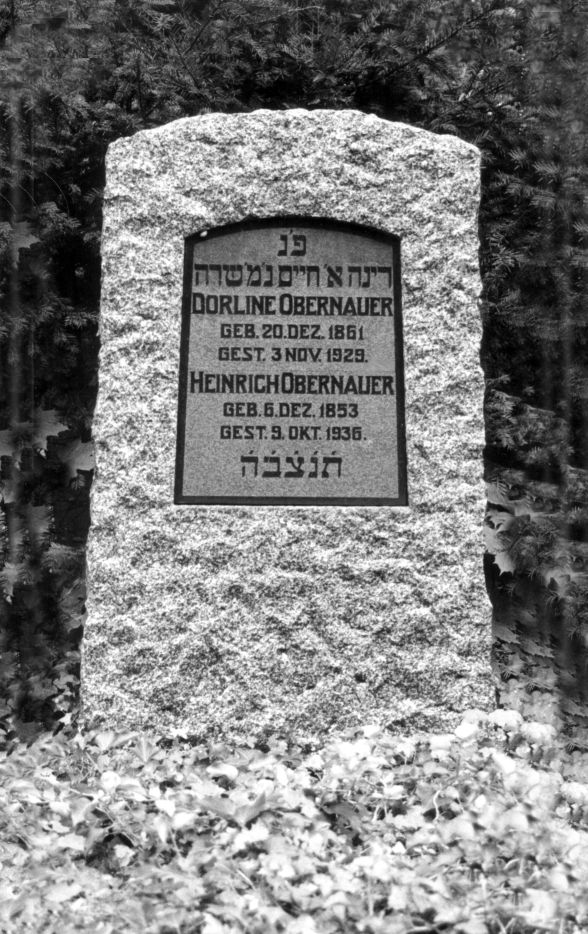 Sources:
Adreß- und Geschäfts-Handbuch für die Oberamtstadt und die Bezirksgemeinden Laupheim. München 1925.
Braun, Josef: Alt-Laupheimer Bilderbogen. Weißenhorn 1988. P. 119–120.
Gedenkbuch. Opfer der Verfolgung der Juden unter nationalsozialistischer Gewaltherrschaft in Deutschland 1933–1945. Bundesarchiv, Koblenz 1986.
Hüttenmeister, Nathanja: Der Jüdische Friedhof Laupheim. Laupheim 1998. P. 352 and p. 502. Laupheimer Verkündiger vom 4.11.1929.
Cityarchives Laupheim FL 9811 - 9899.
Standesamt Laupheim. Familienregisterband V. P. 215.
Weil, Jonas: Verzeichnis von Kriegsteilnehmern der israelitischen Gemeinde Laupheim. Laupheim 1919.